On the Case of QB Kevin Kolb: The Basics of Bail Bonds in Euless, TX
Without the likes of Euless, TX bail bonds service, some Texans would have to spend several days in jail until their trial date. In fact, even a former NFL quarterback would've been spending significant jail time in Willacy County if not for a bail bond. More information in the following excerpt from John Breech's article on CBSSports.com: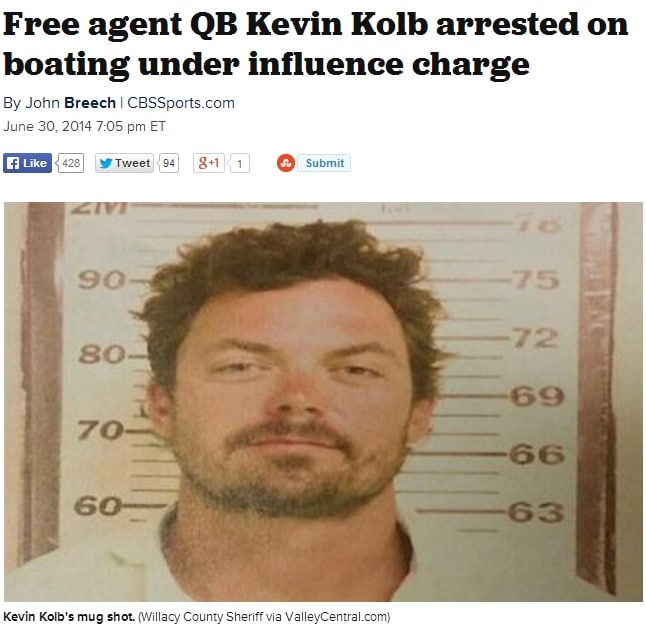 "Former Bills quarterback Kevin Kolb spent a few hours in jail over the weekend after being arrested in Texas. According to 956sports.com, Kolb was arrested in Willacy County on June 28 on suspicion of boating under the influence.

Kolb was released from jail on Sunday after paying a $3,000 bond, according to ValleyCentral.com.
Kolb, a former 36th overall pick in the NFL Draft, probably had no idea that boating under the influence isn't entirely different from driving under the influence in Texas. In the Lone Star State, a DWI/DUI charge is determined by virtue of a suspect's blood alcohol content (BAC). Such crimes are entirely related to a person's BAC when operating a motor vehicle, which in Kolb's case was operating a boat. The state's BAC limits are as follows: 0.08% for persons 21 years or older, 0.04% for commercial drivers, and any detectable amount for those younger than 21.
The 29-year old former QB for the Buffalo Bills and Philadelphia Eagles was meted with a $3,000 bond, which he settled a day after his conviction on June 28. For several people who might find bail bonds a bit confusing, here's a quick description of what it is and what it does:
A bail bond is basically a contract between a person accused of a crime and an agent called a bondsman. Bondsmen pay the entire amount of a suspect's bail in return for a fee called a premium, which is typically 10 percent of the entire bail amount. The bondsman keeps this fee when the accused is released from jail. The latter then agrees to show up in court for trial; and if they choose not to (skipping bail), the bondsman enlists the help of bail enforcement agents (aka bounty hunters) to track down the accused and bring him/her back to court, thereby preventing the forfeiture of the bail money paid by the bondsman.
Of course, one is not and will never be encouraged to have a run-in with the law, because a police record isn't a good thing to have at any time of day. However, if you or a loved one is arrested for a bailable offense and you don't have the resources or capability to post bail, you can definitely turn to the services of trusted Euless, TX bail bonds companies like Just Bail Bonds.
(Source: Free Agent QB Kevin Kolb Arrested on Boating under Influence Charge, CBS Sports, June 30, 2014)