Misdemeanor & Felony Bail Arlington, TX
Our licensed bail bond agents have experience posting bail for misdemeanor and felony bail cases in Dallas, Fort Worth and Denton. The amount of bail required for release from jail varies, depending on the nature of the alleged offense and criminal background of the defendant.
Facts About Arlington TX Jail
The Arlington TX jail is located at 620 W. Division St. in the Ott Cribbs Public Safety Center, open 24 hours a day, seven days a week. The Arlington jail is a "holding facility" where prisoners are confined for usually less than 72 hours before being released or transferred to another facility, such as the Tarrant County Jail.
Arraignments are held daily in the Arlington jail, generally 8AM-2:30PM. Our local bail bond agents can help locate a person in the jail and gain their release by considering every possible option available. We help bail prisoners out with the utmost speed and respect for your personal privacy. Once they are released, you can usually pick up prisoners in the jail lobby on the west side of the Ott Cribbs Public Safety Center.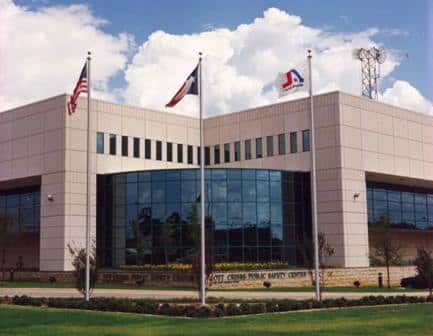 If an automobile was impounded during an arrest, contact the law enforcement agency to find where it is stored and when it will be released. The two most common towing companies used by Arlington police and University of Texas at Arlington police are Kelly McKnight Wrecker Service and Denny's Towing and Recovery. Inquiries about fees, payment methods and directions to the vehicle impound area would be directed to the towing company.
If arrested in Tarrant County, a defendant will be taken to one of four Tarrant County Sheriff's Department facilities:
Green Bay Facility, 2500 Urban Dr.
Correction Center, 100 N. Lamar
Belknap Facility, 350 W. Belknap
Cold Springs Facility, 1815 Cold Springs Road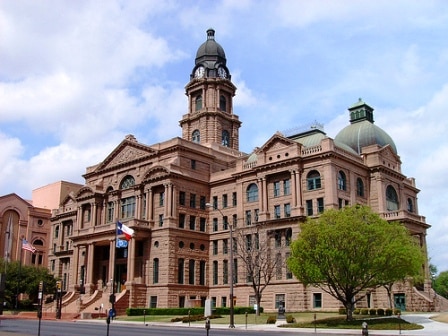 The Tarrant County Court system is comprised of Civil Courts, Criminal Courts, Family Courts, Magistrate's Court, Probate Courts and the Justices of the Peace. The Tarrant County Courts are housed in the Tarrant County Courthouse at 401 W. Belknap, Fort Worth, TX, which also includes the Tim Curry Justice Center and the Family Courts Building.
Guide to Criminal Offenses
Bail amounts and potential punishments vary depending on the severity level of the crime you may be accused of, according to this guide from the local Dallas Bar Association:
Class B Misdemeanors carry a potenial fine up to $2,000 and/or confinement not to exceed 180 days in county jail. Examples: Driving while intoxicated (DWI), criminal trespass, evading arrest, theft by check $50-$500.
Class A Misdemeanors can result in confinement up to one year in county jail and/or fine not to exceed $4,000. Examples: Second DWI, assault, burglary of a vehicle, unlawful carrying of a weapon.
State Jail Felony results in confinement for 180 days to two years in state jail and an optional fine not to exceed $10,000. Examples: credit card abuse, unauthorized use of a motor vehicle, reckless injury to a child.
Third Degree Felony may carry punishment from two to 10 years in prison and optional fine not to exceed $10,000. Examples: Third DWI, indecency with a child, kidnapping, possession of a firearm by a felon.
Second Degree Felony carries the threat of prison term lasting between two to 20 years and an optional fine not to exceed $10,000. Examples: aggravated assault or kidnapping (if the victim is released unharmed), arson, robbery, sexual assault.
First Degree Felony may result in confinement for life or a term from five to 99 years and an optional fine not to exceed $10,000. Example: Murder, aggravated kidnapping, robbery, sexual assault.
Capital Felony crimes carry a punishment of life in prison or the death penalty. Example: Murder during the commission of another felony such as kidnapping, rape or robbery.
Freedom to Post Bail
Bail may or may not be required in misdemeanor cases, depending upon the circumstances and seriousness of the offense. For a person charged with a capital offense, bail may not be an option. The U.S. Constitution permits holding a defendant without bail pending a criminal trial, so there is no absolute right to bail. More serious misdemeanor cases and felonies often require a bail determination. Bail may come into play at three stages of a criminal proceeding:
During the pre-trial period
Pending imposition or execution of sentence
Pending appeal of a conviction or sentence
Our experienced, licensed bond agents are available 24/7, no matter what stage your court case may currently be in. More than 60 percent of defendants arrested nationwide gain release before their initial court date, thanks to fast action and dependable advice from bail bond experts like ours.
For fast, dependable bail bonds in Arlington and surrounding communities in Texas, contact us online. Call a bail bond agent for confidential assistance at (817) 303-3400 in Tarrant County or (214) 495-1363 in Dallas County.