Tarrant County Bail Bonds Services Help in Cases with Expensive Bail
Judges can set expensive–but not excessive–bails for individuals charged with serious offenses. In some cases, bail amounts can be as high as hundreds of thousands of dollars, particularly when a serious offense is combined with other factors, such as high flight risks and previous criminal records.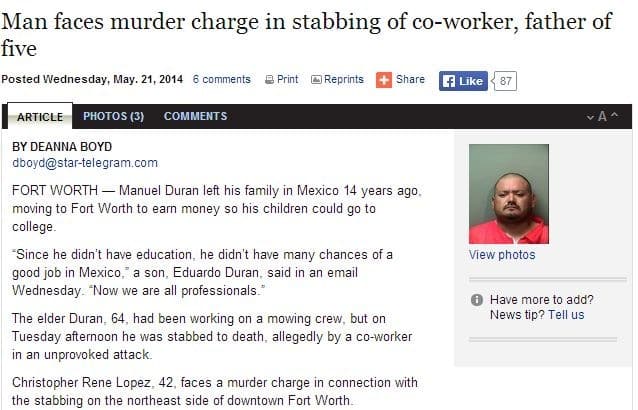 Such is the case in a recent downtown Fort Worth incident. Crime reporter Deanna Boyd writes for Star-Telegram:
"Christopher Rene Lopez, 42, faces a murder charge in connection with the stabbing [of Manuel Duran, 64] on the northeast side of downtown Fort Worth.

The men, contract workers for Downtown Fort Worth Inc., were passengers in a pickup driven by a third man when the stabbing occurred about 4 p.m. in the 1100 block of East Peach Street.

Lopez remained in the Mansfield Jail on Wednesday morning with bail set at $100,000.

He has past convictions in Tarrant County for possession of marijuana, unlawfully carrying a weapon, possession of a controlled substance (cocaine) and driving while intoxicated, court records say."
Being charged with a serious crime does not waive one's rights as a defendant. Aside from the right to legal representation, he may also have the right to post bail as long as he is not accused of a capital offense. Even a capital offense, however, does not automatically disqualify the accused from the right to bail. Often, a bail hearing is needed to determine the accused's eligibility; but in cases where the right to bail is granted, the amount would usually be higher than standard.
In cases where bail amounts may be considered too expensive, Tarrant County bail bonds services could still be relied on to help in securing the freedom of the accused while he awaits his court date.
How is the bail set?
As mentioned, the nature of the crime is considered when a judge determines bail amount, where a graver offense often results in higher bail. Other factors that may increase bail are repeat offenses or past criminal records, and the likelihood of the defendant fleeing the jurisdiction. Aside from these, the judge also considers the defendant's financial resources or ability to pay.
What are the options?
Bail can be posted through cash, personal property worth the bail amount, and surety bond. When the first two are not feasible, surety bonds from companies that offer bail bonds in Tarrant County is the best option.  The service fee charged by these companies, which is usually 10% of the bail amount, is surely worth every hour spent in freedom as the defendant awaits his day in court.
(Source: Man faces murder charge in stabbing of co-worker, father of five, Star-Telegram, May 21, 2014)