Understanding Your Rights During a Traffic Stop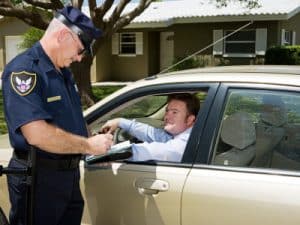 Police officers have the right to make routine traffic stops if they see a driver violating traffic laws. Sometimes routine stops can lead to an arrest for an unrelated crime. It's important to understand your rights during a traffic stop so you don't incriminate yourself unnecessarily. If you are arrested, Just Bail Bonds can help you get free pending trial.
You Must Consent to a Search
Unless you are arrested, the police may not search your vehicle without your consent or a warrant from a court. Police can, however, confiscate items that are in plain sight. For example, if you have an open bottle of alcohol on your passenger seat, police can seize it, cite you for violating open container laws and use it as evidence of a DUI. However, they cannot search the vehicle for open containers that may be hidden under the seat without your consent unless you are under arrest.
This is important because if the police suspect alcohol or drug use, they may want to search the vehicle, but if they don't have permission to do so, any evidence found may be disallowed by a judge.
You Have the Same Rights as Persons Under Arrest
You have the right to remain silent and to an attorney just like a suspect who has been arrested. The right to remain silent is important. Many people find themselves arrested for DUI after telling a friendly officer how much they drank. You are not required to answer this or any other question during a traffic stop. You can tell the officer that you won't answer questions outside of your attorney's presence.
If You Are Arrested
Officers may decide they have probable cause to arrest you during a traffic stop. If this happens, don't panic. Remember you have three rights: the right to remain silent, the right to an attorney and the right to reasonable bail.
An arraignment judge will set bail soon after your arrest. Traffic ticket bonds are usually not expensive, depending on the nature of the crime you are charged with. You may need to contact a Dallas bail bonds agency like Just Bail Bonds to help get your bail paid if you cannot afford it. Your release will make it easier to assist in your traffic ticket defense.