Trusted Bail Bonds Agency in Fort Worth, TX
Experienced Bail Bond Agents Near Fort Worth, TX
There's no question that getting arrested and going to jail is terrifying. That's why at Just Bail Bonds, we combine our 26-plus years of experience with compassion and speed to get you or your loved one out of jail as fast as possible. We work with clients in Fort Worth and throughout Tarrant County 24 hours a day, 7 days a week, regardless of what the charges are. From relatively minor charges to the most serious, trust us when we say we've seen them all in our many years of doing business. Our team of licensed bail bonds agents know the Tarrant County jail and court system, and we work quickly to get you or a loved one out of jail and safely home.
Fast, 24/7 Bail Bonds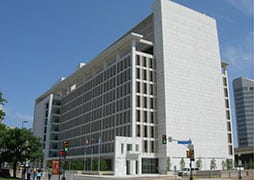 One of the many things we've learned at Just Bail Bonds in more than 26 years in the business is that there's no such thing as a good time to go to jail. That's why we work fast and are open 24 hours a day, 7 days a week. We mean that literally — whether it's a Wednesday afternoon during normal business hours or at 3:00 a.m. on Christmas Eve, our licensed bail bond agents are available to help you or your loved one get out of jail fast. Because we understand just how inconvenient and stressful it can be to bail someone out of jail, we offer a number of flexible payment options, and we can even come to you in many cases. Still at work or home with sleeping children? No problem, we offer mobile bond options. For bail bonds in Tarrant County, call us at (817) 303-3400, or if you're in Dallas County, call (214) 495-1363.
About Fort Worth, TX
Fort Worth, Texas, is a massive city, ranking as the fifth largest in Texas and the 13th largest in the United States. Cowboy culture and agriculture are quintessentially Fort Worth, but it is also a modern city with world-class shopping, dining, entertainment, and arts culture. The city is just 20 minutes or so from both Dallas and Arlington, and it's a great place to live for young professionals, growing families, and retirees alike.
If you or someone you care about is in jail, call Just Bail Bonds right away at (817) 303-3400 in Tarrant County or (214) 495-1363 in Dallas. We're available 24/7 to take your call, and we'll get to work right away. We can even come to you in many cases!