Mansfield Bail Bonds Experts Give Advice on What to Do After Arrest
"A Fort Worth man and woman with long criminal histories have been arrested in the robbery of an Asian restaurant owner who was beaten repeatedly on the head with a plastic drink crate," writes Star-Telegram crime reporter Deanna Boyd. The victim's wife and a customer was able to identify the license plate of the vehicle the couple left in, which led to their arrest.
"Latonya Shawon Walker, 39, and Michael Dean Thomas, 49, were arrested on robbery warrants, according to a police report.

They remained in the Mansfield jail Friday, each facing two counts of robbery and being held in lieu of $9,000 bail.

Tarrant County court records show Thomas has criminal convictions dating to 1993 for offenses including burglary, terroristic threat and aggravated assault resulting in serious bodily injury.

Walker, records show, has more than three dozen convictions in Tarrant County for offenses including attempted escape, criminal trespassing, unlawfully carrying a weapon, prostitution and possession of a controlled substance."
Even repeat offenders like Thomas and Walker may not be fully aware of their rights after getting arrested, so individuals who get charged with misdemeanors or felonies for the first time may all the more need guidance. Here are some practical advice from Mansfield bail bonds experts on what you can and should do after an arrest: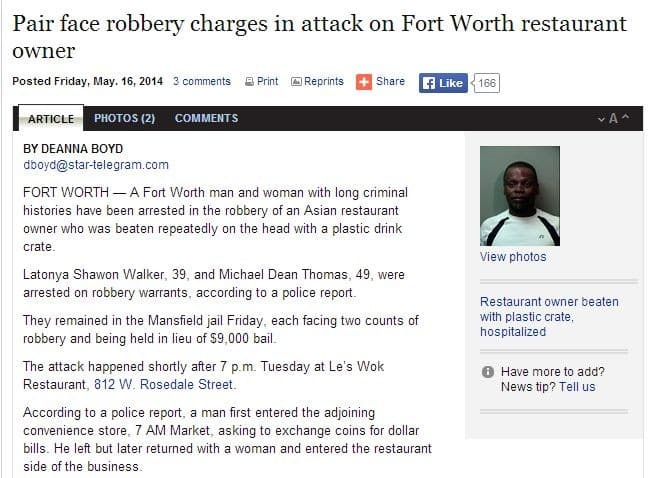 Study your rights and options.
Despite any previous experience or secondhand accounts, you may not be totally familiar with the local criminal justice system. If the charge against you is a non-capital or non-serious offense, you are likely eligible for bail. Consult professionals who are well-versed in the bail bond process to learn about your options for bail.
Bail can be paid in cash, property bond, or surety bond. A bail bond expert can help you determine which among these would best suit your financial resources and preference. In some cases where the set bail is too high, you can request for a lower bail in a special hearing or during arraignment.
Secure a bail bond.
When you don't have enough cash to pay for bail, securing bail bonds in Mansfield, TX may be your best option. Licensed bail bond agents from reputable companies like Just Bail Bond are always available to explain the advantages of a surety bond. Not only will you find bail bond services more affordable; you can also enjoy freedom sooner than in other bail bond processes.
(Source: Pair face robbery charges in attack on Fort Worth restaurant owner, Star-Telegram, May 16, 2014)