Seek Fort Worth, TX Bail Bonds to Get Loved Ones Out of Jail Fast
Having a loved one in jail is tough. Processing cases can take a long time, and those arrested might not be scheduled for a hearing or a trial right away. This prolongs their stay behind bars, while waiting for their court date. If you wish to get your loved one out of jail as soon as possible, you can post bail for him or her. An article in Find Law discusses the steps that need to be taken in posting bail.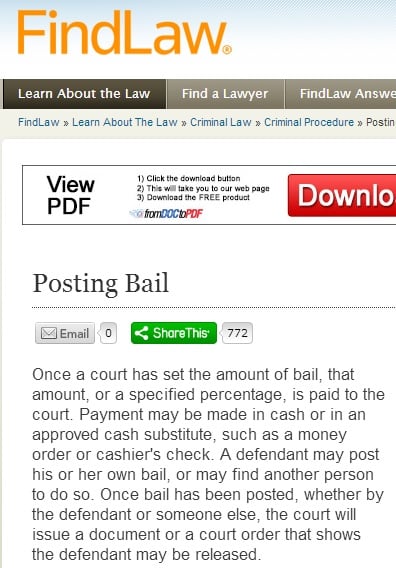 Once a court has set the amount of bail, that amount, or a specified percentage, is paid to the court. Payment may be made in cash or in an approved cash substitute, such as a money order or cashier's check. A defendant may post his or her own bail, or may find another person to do so. Once bail has been posted, whether by the defendant or someone else, the court will issue a document or a court order that shows the defendant may be released.
Generally, a person who has been arrested does not need to wait for an arraignment before posting bail. Bail can posted at the jail house, using a standard schedule. If you wish to get your loved one out of jail as soon as possible, you can opt to pay at the jailhouse, but keep in mind that the bail amount could be higher than what the judge might set at an arraignment.
If you do not have sufficient funds for the bail, consider working with bail bond agents, who can pay on behalf of the accused. They act as a surety, and therefore become responsible for the accused's appearance on the set court dates. In Texas, Fort Worth bail bonds professionals like those from Just Bail Bonds, are always on hand to help those who cannot post bail out of their own pockets.
In return, these agents typically ask for a nonrefundable service fee, which is usually at least 10% of the bail amount. They may also ask for collateral in the form of jewelry, properties, or any other possession of value.
Once you have reached an agreement with bail bond agents, they can process the necessary paperwork to get the accused out of jail. Reliable Fort Worth, TX bail bonds agents can facilitate jail release in as fast as 24 hours.
If you negotiate with the bond agent and put up the necessary collaterals for your loved one's bail, keep in mind that you could lose these properties if the accused fails to show up on scheduled hearings. This is the main purpose of collaterals: to discourage those accused from "skipping bail", or not showing up in court at the appointed time.
(Source: Posting Bail, Find Law, NA)