Services like Mansfield Bail Bonds let Injured Rangers Catcher Go Gree
Fans of the Texas Rangers are likely familiar with injured team catcher Geovany Sotto. This time around, however, he made a bit of a stir not on the baseball field, but on the legal one– and has the likes of dependable Mansfield bail bonds services to thank for temporary relief. Star-Telegram's Mitch Mitchell reports: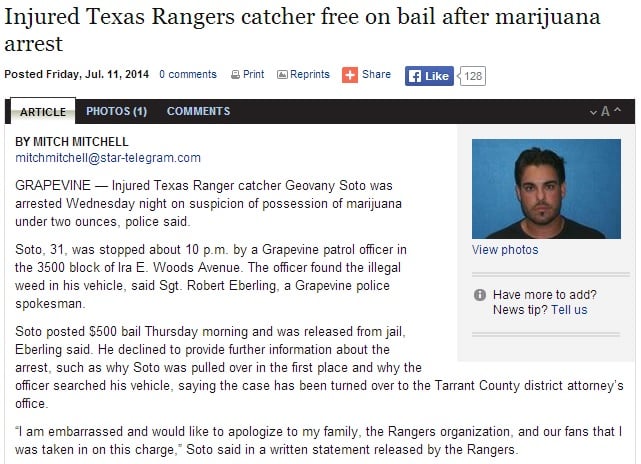 Injured Texas Rangers catcher Geovany Soto was arrested Wednesday night on suspicion of possession of marijuana under two ounces, police said.

Soto, 31, was stopped about 10 p.m. by a Grapevine patrol officer in the 3500 block of Ira E. Woods Avenue. The officer found the illegal weed in his vehicle, said Sgt. Robert Eberling, a Grapevine police spokesman.

Soto posted $500 bail Thursday morning and was released from jail. […]
Soto, a 9-year veteran who also played with the Chicago Cubs before joining the Rangers, is currently on the injured list after his knee locked up in an exhibition game last March 23, 2014. However, during his time off the field, he apparently wasn't aware that recreational pot has been made legal in only two states— Colorado and Washington State— and Texas has yet to follow suit.
In the Lone Star State, possession of marijuana (whether for recreational or medical purposes) is flat out illegal. All of the potential prison penalties and fines heavily depend on the amount the charged person has. In Soto's case, he was found with under two ounces in his car, which is classified as a Class B Misdemeanor offense. Such offense comes with penalties involving up to 180 days of jail time, as well as a fine of up to $2000. If he possessed a smaller amount, he would only have to deal with probation and mandatory drug treatment, and would even have the chance of having his case dismissed if the treatment is successful.
On the other hand, going over 2 ounces up to over 5 pounds is classifiable as a Class A Misdemeanor offense, which can lead to about one to ten years of jail sentence, and fines amounting from $4000 to a maximum of $50000. Pot enthusiasts in Texas will have to wait until 2017 to be free of legal run-ins, as the state plans to regulate recreational marijuana similarly to alcohol by that time.
Marijuana offenders in the Lone Star State have the services of companies like Just Bail Bonds to thank, as they offer trusty bail bonds in Mansfield, TX as well as in nearby locales. For Soto, he is at least temporarily relieved of the troubles of jail life until his trial day arrives.
(Source: Injured Texas Rangers Catcher Free on Bail after Marijuana Arrest, Star-Telegram, July 11, 2014)